Perylene Pigment Red 149 used for Plastic and Masterbatchs and Fiber Drawing and Coating and Paint Cas 4948-15-6
Product Detail
Product Tags
Perylene Pigment Red 149CAS NO.:4948-15-6
Molecular Weight:598.62
Appearance: Bright Red Powder
Strength: 100±5(Compare to standard sample)Moisture: ≤0.5%
Application: Masterbatch, Fiber Drawing, Varnish, paint, coating, plastic etcAdvantages:
* Provide different type for different usage
* Very high heat resistance up to 300 ℃
* Very good light and weather fastness 8
* Provide high color strengthProduction Capacity: 350 ton/year.
Material quality is well recognized by customers.
We also supply other Perylene Pigment and Dye and Intermediate, details are below
Pigment
1. Pigment black 32(C.I. 71133), CAS 83524-75-8
2. Pigment Red 123(C.I.71145), CAS 24108-89-2
3. Pigment Red 149(C.I.71137), CAS 4948-15-6
4. Pigment Fast Red S-L177(C.I.65300), CAS 4051-63-2
5. Pigment Red 179, CAS 5521-31-2
6. Pigment Red 190(C.I,71140), CAS 6424-77-7
7. Pigment Red 224(C.I.71127), CAS 128-69-8
8. Pigment Violet 29(C.I.71129), CAS 81-33-4
Dye
1. C.I. Vat Red 29
2. C.I. Sulfur Red 14
3. Red High fluorescence dye, CAS 123174-58-3
intermediate
1. 1,8-naphthalic anhydride
2. 1,8-naphthalimide
3. 3,4,9,10-perylenetracarboxylic diimmide
4. 3,4,9,10-perylenetetracarboxylic dianhydride
5. perylene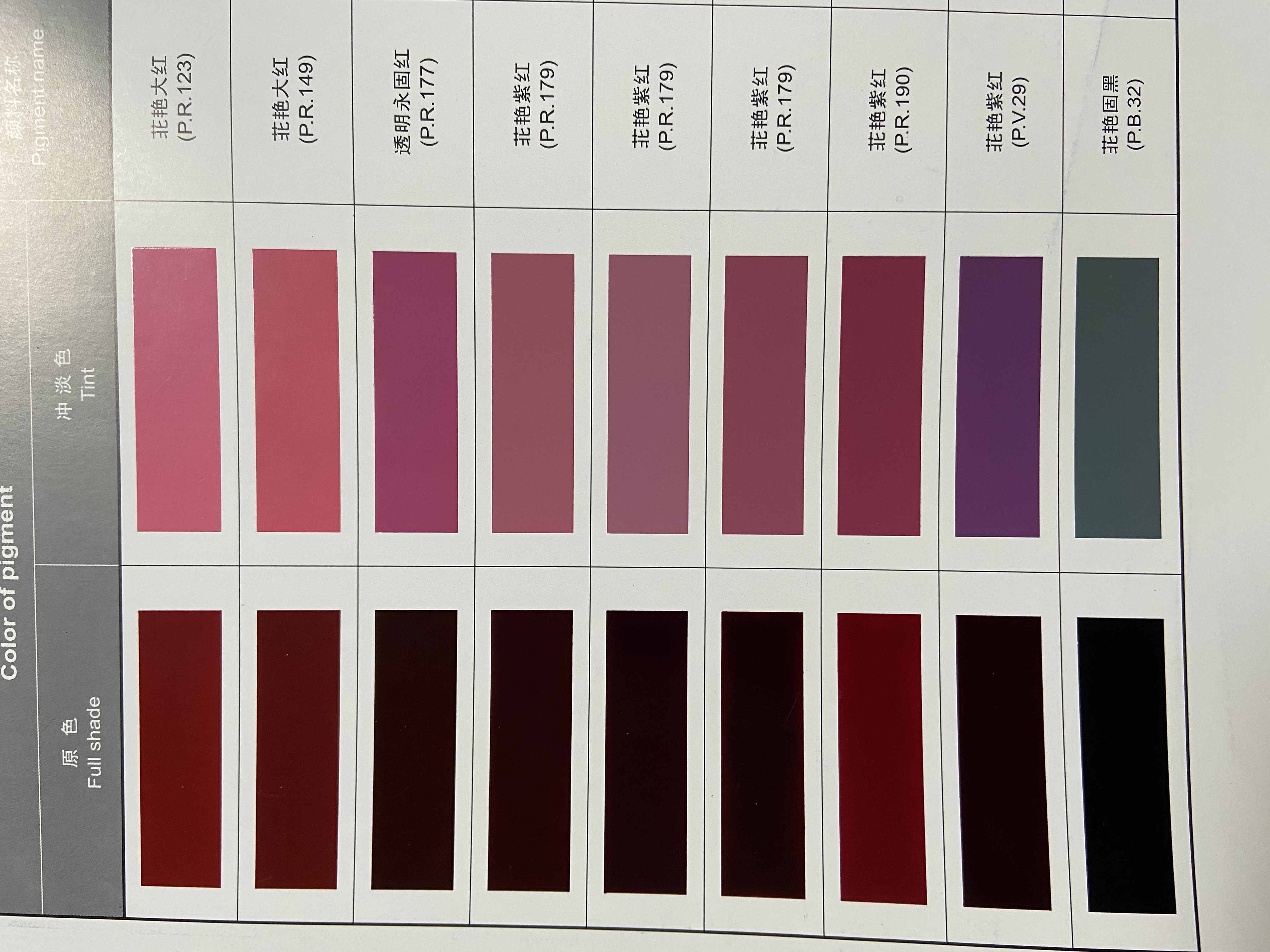 ---
Previous:
Pigment Red 179 for Automobile Varnish and Refinishing Paint Cas 5521-31-2 Perylene Pigment with Excellent Light Fastness
---
Write your message here and send it to us